Patents
US Patent #9696982, Safe host deployment for a heterogeneous host fleet
Utilizing the concepts and technologies described herein, updates to hosts in a heterogeneous host fleet can be deployed in a safe manner by conducting a test deployment before deploying the updates to all the hosts in the host fleet. Potential problems can be discovered during the test deployment and thereby mass deployment failure can be avoided. A subsequent analysis may be conducted based on the deployment data to provide recommendations for future deployments. https://goo.gl/3tXoCY
Sony Pictures Entertainment
Just a quick note to bring to your attention the efforts of [SH] and Andrew Michalik these last couple of weeks in getting the new warehouse vendor, Unisource, up and going on the CAFM system. Under difficult conditions, [SH] and Andrew took charge of assessing the status of  all open orders, what items had been staged, but not processed and which items were completed, but not closed. In addition, working with both the Unisource team and Facilities, quick decisions needed to be made, immediate new short-term process changes where implemented and plans to address longer term processes are now being planned.
Without blowing our own horn too much, this is an excellent example of the partnership between Facilities and IT in tackling an immediate and highly visible need. All should be commended and especially Andrew and [SH] two exceptional team members, for stepping up to this unique challenge way above the call of duty. Thank you gentlemen! –  M.M., Executive Director, Studio Systems Group
Thanks for the update and congratulations. This represents a big milestone in the project and it's all due to you and Andrew's dedication and perseverance in getting this done! –  M.M., Executive Director, Studio Systems Group
Whew!!! Congratulations! Thanks again for all the extra effort on this one. I don't think anyone else could have pulled this off!! –  M.M., Executive Director
Thanks for all the effort (what a mess – Andrew saves the day (again!)….
–  M.M., Executive Director, Studio Systems Group
I wanted to take the opportunity to tell you how pleased I am with the Motion Pictures Production Portal. It has made a tremendous positive impact on the work – and our results – in Production Accounting. One specific example is the new Variance Entry screen on the Portal. It saves me at least eight hours per week…
Click for document PDF – G.M., Vice President
I have to tell you that both Jay and I very much enjoy working with you. We value your fantastic attitude, dynamic personality, professionalism and technical skills.  We have a tremendous volume of work on our plate scheduled out beyond the second quarter of next year and would we would welcome working with you. Some of the work is on the CAFMTools application and much of it is on our other software products. If you are interested in working with us after we have completed the CAFM Billing project at Sony please let me know. – K.R., President
You and [other team member] should also pat yourselves on the back for pulling it together and presenting the "wow" factor to the customers. Without [your] technical direction and vision, we would not have succeeded.  So "thank you" coming from our end as well.  😎 – E.C., Web Infrastructure Architect
Production Portal – We went live with this application last week, rolling it out to [the client]. This application was the first to use the BEA Weblogics Portal framework developed by [Frank's] group. [Team member] and Andrew Michalik "pioneered" several processes when working on this project including the development of the first "production environment" for the framework. –  M.M., Executive Director
Met Life
Congratulations upon achieving the milestone launch of the new SFG website. Your personal contributions to this project were instrumental and we greatly appreciate your efforts. We are proud of this new service capability we can provide to our customers through interactive and online transactions. Thank you for your diligence, hard work and successful delivery of the first phase of this project.
– The Senior Management Partnership
IXYX Integrated Circuits
Mr. Michalik's design was carried out in a very professional and timely manner. The software and design techniques were well executed producing an area efficient circuit. The first lot of devices were tested to meet specification and were accepted by the customer. The circuit is now being readied for volume production with no engineering or masking changes. – Vice President of Engineering
Tektronix
I have noticed how quickly you have assimilated the technical information needed to understand the CAE marketplace […] Your open communications with marketing, engineering, and management have been appreciated, particularly since your observations and concerns were voiced in a positive, productive manner.
– National Sales Manager
Rhône-Poulenc
Thank you for the excellent work you did designing, coding and installing the [product] on the RPR global intranet. I appreciate the professionalism and alacrity you showed in responding to our pressing needs with such short deadlines. I won't hesitate to recommend you to other departments here at RPR.
– Director of Corporate Communications
Commercial Software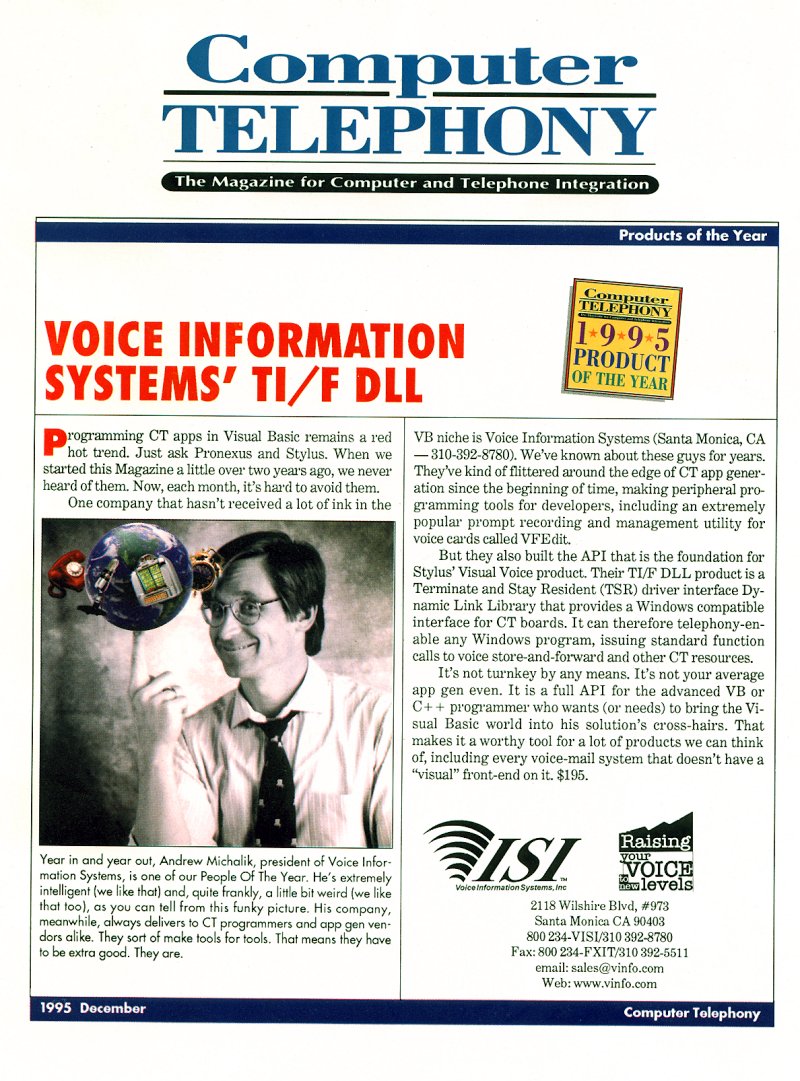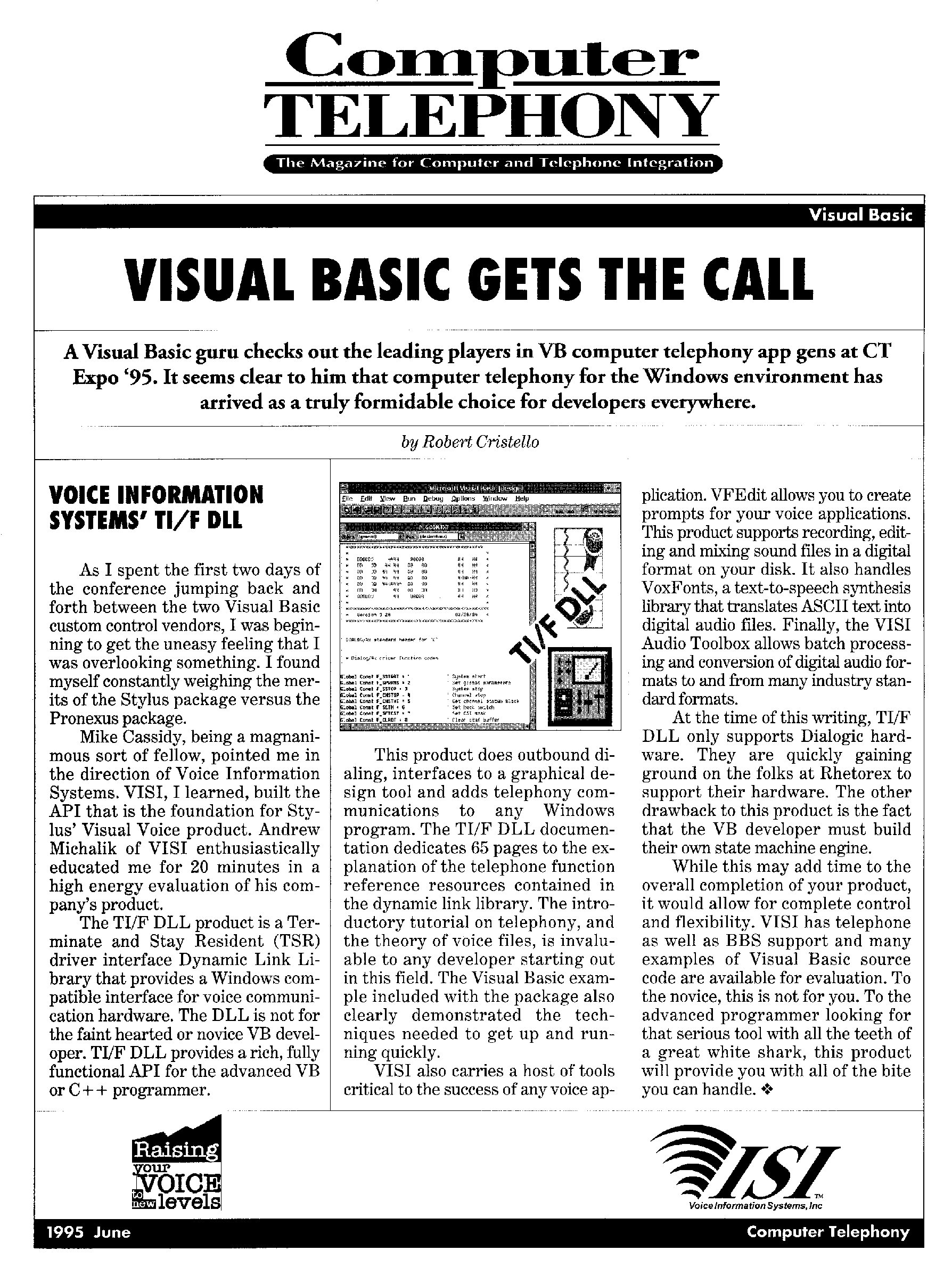 Wow! What terrific service! I'm not used to receiving such a detailed, personal response to after-market technical questions. My compliments!
C. Anthony, San Diego, Ca
To the advanced programmer looking for that serious tool with all the teeth of a great white shark, TI/F DLL will provide you with all of the bite you can handle.
Robert Cristello, Computer Telephony Magazine
I recently purchased TI/F DLL for a client, and we've been very happy with it, so much so that we're now interested in your other products.
Richard Kittell, Business Technology
Thanks to VFEdit and the Audio Toolbox, we produce fancy, audio-enhanced prompts that go on-air. You guys make us sound good!
Bonnie Hoffman, B101 FM
TI/F DLL has opened up the world of Windows for our text-to-speech telephony.
I recommend it highly. It's very well-written and logical. The support at VISI has been extremely conscientious. Willie Lagunzad, Senior Developer, AcuVoice
TI/F DLL is a powerful utility that enables us to fully communicate with the
Dialogic board. VISI enabled us to create a robust Windows application to handle
telephony, with nearly invisible access to the rich features of the Dialogic board. We
consider VISI part of our team. Kevin Cain, Engineer, DCI
Year in and year out, A. J. Michalik, President of Voice Information Systems
is one of our People Of the Year… His company always delivers to CT programmers and appgen vendors alike. They sort of make tools for tools. That means they have to be extra good. They are. Computer Telephony Magazine
Let me compliment you and your staff for their prompt responses to my recent
inquiries. They have certainly demonstrated VISI's commitment to customer
satisfaction. Steve Koerner, Interactive Data Concepts, Inc.
VFEdit is essential to our operation. We wouldn't be in business without this
superior product. And VISI's technical support is great! Steve Norris, Galaxy Communications
The new VFEdit release has cut the time and cost of generating voice prompts
vastly. The person recording the prompts does not have to be a computer whiz to use the VFEdit program. The service on the VFEdit program has always been timely and solves the problem. The folks at VISI do their home work and take care of their users. Paul Alfrey, CEO, Fonelink
Clients
1-800-Contacts, 1st Union Bank, Alcatel-Lucent, ARCO, AT&T, Delta Air Lines, Domino's Pizza, Bellcore, Bloomberg News, Boeing, CIGNA, Citibank, Citicorp, Conde Nast Publications, Cox Enterprises, Delta Airlines, Egghead Software, Eli Lilly, EMI, Equifax Inc, Ernst & Young, Federal Express, Florida Power & Light (FPL), Hearst Corp, Hong Kong Telecommunications Ltd, Hewlitt Packard, Hughes Network Systems, I.R.S., IBM Corporation, IBM Deutschland, KCBQ, Lockheed Martin, NCR Corporation, NEC Corp of America, Open Cascade Technology, Panasonic (Nederlands), PC World, PricewaterhouseCoopers, PSE&G, The Recycler, Samsung, Sandia National Laboratories, Seiko Group, Shell Canada Limited, Siemens AG, Sprint, Sylvan Learning Systems, Texaco USA, Texas Real Estate Commission, The Associated Press, The Hartford Courant, UC Irvine, United States Bankruptcy Court, VMX, Walt Disney World, Westin Hotels & Resorts